Sara increased her Military Press and Bench Press by 40 pounds each. She double her Back Squat during the 12 weeks bringing it to 160lbs. She also increased her deadlift by 60 pounds in just 12 weeks.
"I am embarrassed to say before when I worked out I used to always do cardio. No weights for this girl, mostly because they intimidated me. Now I realize how silly that was. I have seen much better results with a combination of weights and cardio than I did with just cardio. Now instead of setting goals for running I am setting weight lifting goals."
"I think that the biggest change that I have noticed is how many inches I have lost in my waist, I lost 5 inches in my waist which was incredible all of my clothes fit so much better now. Another huge change is how much better I have been sleeping, I used to wake up several times a night or only get a few hours of sleep even if I was exhausted but now I sleep through the night."
"I feel so much stronger, and more confident I look forward to going to the gym where before I dreaded it. It is really awesome to have the confidence to go to the gym and know what I am doing and to know that I can do more than I ever thought I could."
"The program works! Even if you are out of shape like I was when I started even if you are a little embarrassed about how little you can lift if you stick with the program and trust your Trainer you will see amazing results. The trainers are there to help and want to see you succeed. It can be scary I know I was nervous and intimidated to start this program but I kept at it and I am so happy that I did. You will not regret it!"
Meet Angela our next Amazing 12 graduate! Her results truly speak for themselves. Despite a few aches and pains along the 12 weeks she still achieved incredible results! Read her success story below:
"This program and my fitness journey in general has allowed for me to believe that I can do almost anything and to take risks. Being stronger has boosted my confidence and given me more energy to survive my busy lifestyle. Being a wife, a mother to a 2 and 4-year-old, a homemaker, and working full time requires a lot of balancing and a lot of physical and mental strength to overcome the daily needs of everyone around me. "
"Based on my results, I am amazed at the strength increases. My goal by the end of the program was to do pullups and I was so happy to accomplish that goal. I'm 150-pound woman that could barely do pushups on her knees a year ago, so that is no small feat!"
Angela started out benching 55lbs and ended benching 110lbs for reps! Her goal was pull ups and she crushed that…starting out she was only able to do 75lbs on a lat pull down for 1 rep and finished doing pull ups for reps. Her military press doubled allowing her to press 75lbs for reps after starting out on a 25lb bar. Despite a hamstring injury a few weeks into the program she was still able to increase her squat from 86lbs to 175lbs! Finally she increased her deadlift by over 70lbs in just 12 weeks. All of this while losing a couple inches, dropping 4% body fat, and gaining 3.4lbs of muscle!
"Aside from the Amazing 12, the personal connection I feel towards IA is what I love. I know they care about my wellbeing and are truly interested in helping me meet my fitness and nutrition goals. My trainer Melissa is awesome and always pushed us to go beyond what we thought we were capable of. It was great to be in a small group setting and to have the comradery among those going through the program particularly my 5 am partner Sara, who's encouragement and humor made getting up that early worth it. "
"With doing the Amazing 12 I'm not as intimidated by gym equipment and I really feel like I can go into a gym and actually use free weight equipment instead of going straight to the cardio. I've learned form, and how bad form feels. I've learned to listen to my body. I know what I need to fuel my body. I'm not a perfect eater, but I know what it takes to get the results."
"I turn 40 in July and my goal was to be in the best shape of my life and this program helped me to achieve that goal and then some, and I don't want to let this go."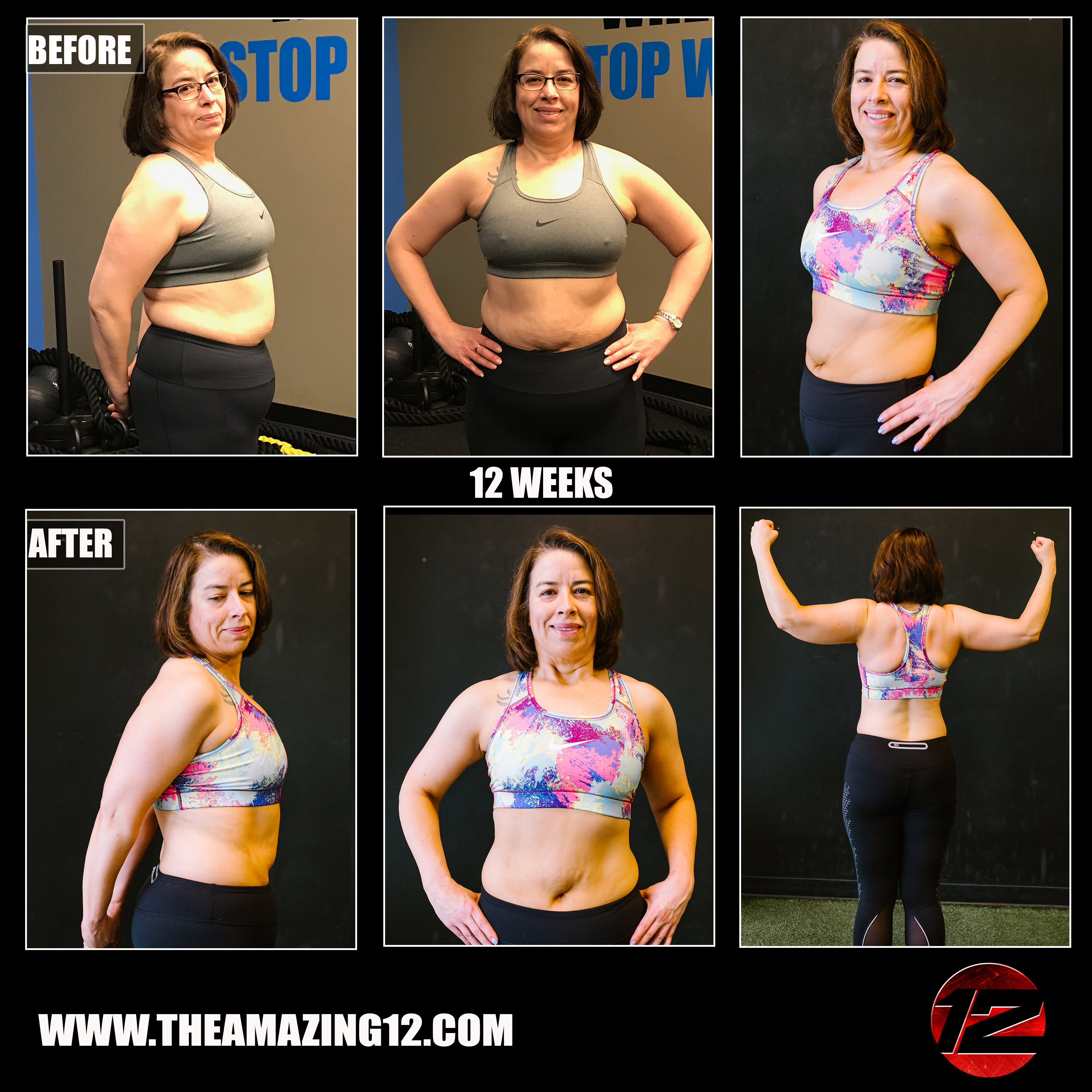 Meet our next Amazing 12 Graduate Tammy! Read her success story below:
"Before I started "A-12" I was overweight, out of shape and at my wits end. The cardio exercise and diet I was doing was not getting me the results I desired. Today, thanks to 'The Amazing 12" I'm much leaner and stronger. I can now run a mile at the pace I ran in my thirties and I'm cruising up the hills whereas before I had to walk them."
"When I started A-12, I had zero weight lifting experience. I don't even realize how weak I was. Through the program I've more than doubled my strength!"
Tammy went from benching 40 pounds to 85lbs, her military press increased from 20 pounds to 65lbs, her back squat and deadlift both double to 155lbs. For no lifting prior lifting experience these results are incredible!
"'The Amazing 12' weight training and nutrition program is simple to follow and effective. It helped me regain muscle I had lost through age and inactivity. Gaining this muscle helped boost my metabolism and enabled me to burn off unwanted fat. No other program I've found offers small group training and nutrition guidance solely geared towards muscle building and physique transformation. "
"The most significant change I've noticed is in my physique. I've lost several inches everywhere. I'm more compact (tight and toned) and I now have noticeable muscle definition."
Tammy lost 18.6 lbs, 10.25 inches, and 9.9% body fat over the course of the 12 week program!
"To be honest when I first walked in the door, I felt defeated. I was embarrassed by how overweight and out of shape I had become. I was ready to give up on running and resign myself to a life of couch surfing. Today, I feel like I could train for another marathon and easily continue to run in my 80's and beyond."
"The A-12 program is customized to each individual's strength and body type. You will see results whether you are completely new to lifting (like I was) or have many years of experience. If you want to experience drastic gains in your strength, overall fitness, and physique – you've got to do it!"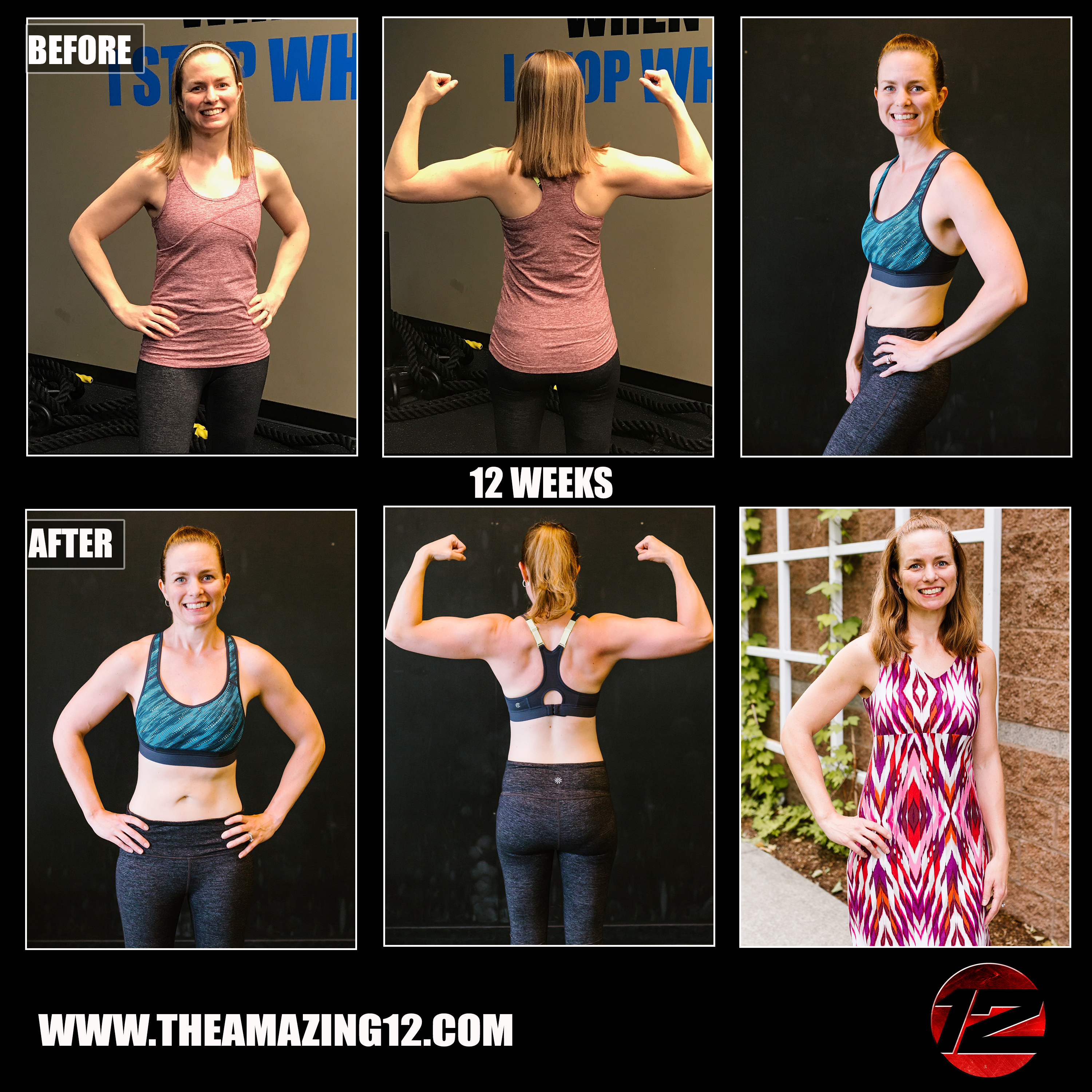 Meet Erika:
"Physically today I can lift, push & pull much more than I could 12 weeks ago. It has helped me with tasks outside the gym that used to be a struggle for me. The aches and pains of running have also gone away."
"Strength increases started out slow, but once I established a good base, the increases happened much faster. I'm able to squat and deadlift my body weight and am ready to progress further. I've really surprised myself with how much I can lift."
Erika lost less then a pound through out the entire program. But she decreased her body fat percentage by 5.3%. She gained 5.4lbs of muscle and lost 8.75 inches over all!
"A12 is different because the workout is like a prescription, it is measured and tracked. If you follow the prescription, you will have results. It has changed my approach to training because I've gained so much knowledge and tools for my exercise/lifestyle toolbox. The accountability and camaraderie is also different from other gyms, your coach and teammates are counting on you to show up and put in the work, we all encourage each other, help one another out, & have fun doing it."
"I would say absolutely do it and be 100% committed. Don't be afraid to challenge yourself, the changes you see physically and mentally are amazing! It's the best investment you can make for a stronger & healthier you."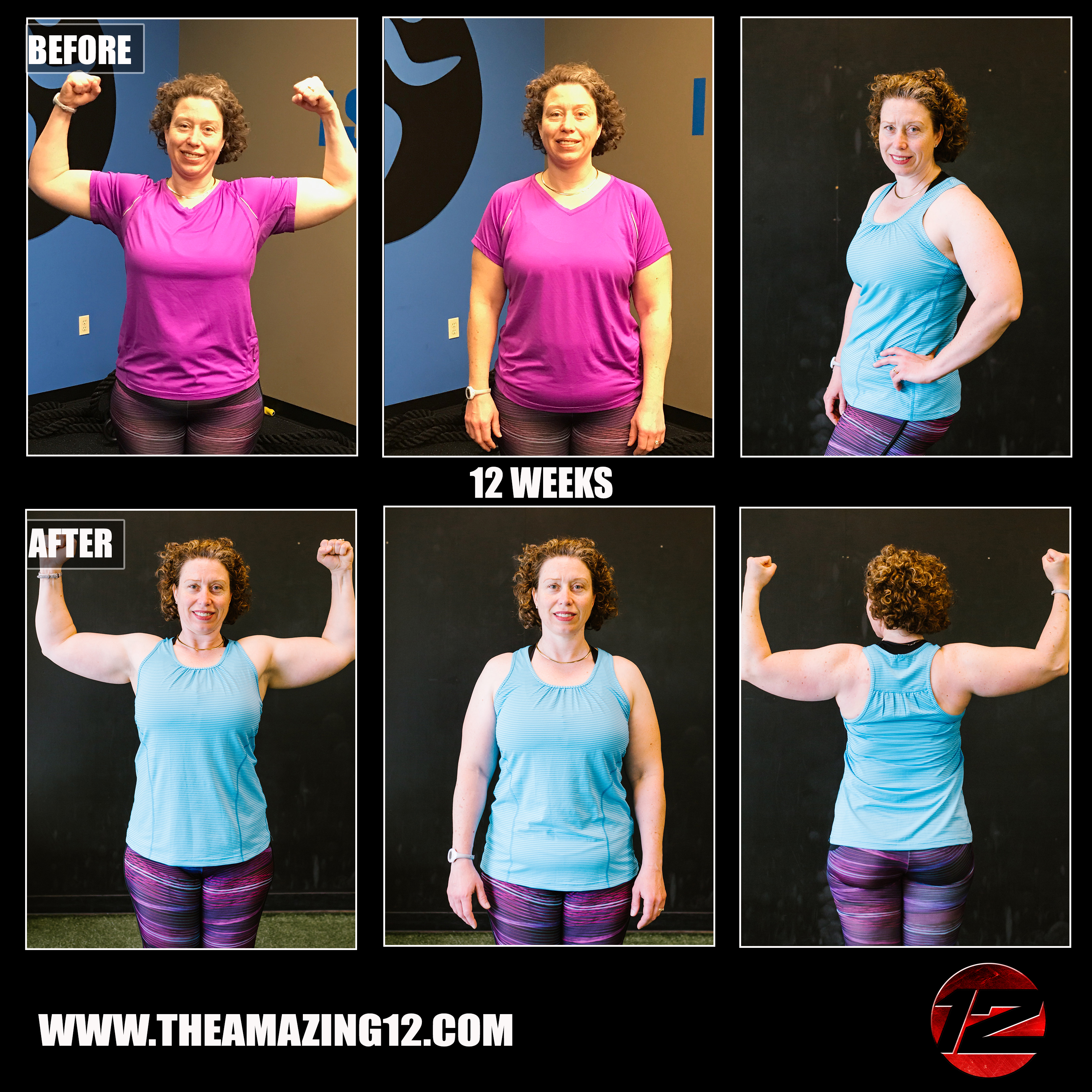 Meet our Final Amazing 12 Graduate from Wave 1. Read Georgina's success story below:
"The irony is that I haven't dropped 5 sizes or 30 pounds, partially due to my lack of keeping the food side together. However, my shape has changed dramatically and many of my friends have commented on the changes. Also, I am not afraid to jog on the treadmill more – and that is HUGE!"
"I thought had a good starting point, since I had already been training with Inner Athlete for several years leading up to this. I had done several sessions with Melissa and (at least) had touched some of the weightlifting machines before. But WOW, technique week was the start of such an awesome learning experience. At first, I didn't pay attention to which weights were on the bar, I trusted Melissa and the program. I figured I'll just lift what is there, also, I was afraid the numbers would be small. But toward the end, I really did want to know the numbers, because I was proud of them and the work I had done. I know I am stronger because I feel it every day, I feel it when I lift something that used to be heavy and now it's not - like my middle schooler. Or, when I have to move things around in the back seat while still sitting in the front, I just feel stronger all the time in little ways. The best is at the grocery when they're packing the Costco bag and say "this may be a little heavy" and I'm not worried. "
Georgina lost 5 lbs and gained 7 lbs of muscle over the course of the 12 weeks resulting in a net loss of 12 lbs. She is down nearly 8 inches and 5% body fat. Her bench press went from 65lbs to 135lbs! Her military press went from 45lbs for reps to 80lbs for reps. Her Back Squat went from 55lbs to 115lbs for reps! Her deadlift improved by 60lbs to 185lbs.
"Amazing 12 was different to my other experiences in several ways, the comprehensive nature of the program involving all aspects of HEALTH (not just fitness): strength, cardio, flexibility and food. I appreciated that a portion of the exercises were the same each week so that I could really focus on every aspect of the technique and, in turn, do my best strength work and have the best gains!"
"Amazing 12 has just the right name! It meets you exactly where you are strengthwise and makes you a better version of you. It is not one weight for all. Every person will see gains- BIG gains. You'll see improved flexibility, get faster at running – or become more of a runner, if you were a walker like me… But, it is not for the faint at heart, there is homework outside the gym. This is fair, as it is your body, you are the primary steakholder – so invest in it! I am thankful I did A12 because I'm loving my life with all these new muscles!"